About Kosmos Energy Ghana
A Premier Oil & Gas Exploration Company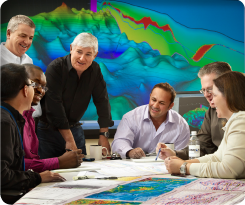 Kosmos is a premier international oil and gas exploration and production company focused on the frontier. Our primary areas of operation are underexplored regions along the Atlantic Margin. We focus on unlocking new hydrocarbon systems and growing and maturing discovered basins through follow-on exploration success, development and production.
We are pathfinders with proven technical expertise and an empowering, contrarian spirit. We are successful in finding and developing oil and gas, and in striking a new balance between risk and reward. These qualities have allowed us to explore areas other companies thought were too risky compared with potential rewards – like offshore Africa where we found the massive Jubilee Field in Ghana's deep waters.
Our asset portfolio includes existing production and major project developments offshore Ghana, as well as oil and gas exploration licenses with significant hydrocarbon potential offshore Mauritania, Morocco, São Tomé and Príncipe, Senegal, Suriname, and Western Sahara.
Kosmos also finds the right balance in our relationships with the governments and countries where we operate, working with them to transform natural resources into national resources, enhancing lives. And we partner well with others in our industry. These skills are paramount to our ability to safely and efficiently conduct the ongoing development that follows discovery.
Strategy
A VISIONARY, DISCIPLINED APPROACH
Kosmos pursues a pathfinder's strategy. We have the vision to find new and emerging petroleum systems in frontier settings and the discipline to develop them safely, quickly and profitably. What differentiates Kosmos is our exploration efficiency – we are a proven, serial finder of large oil and gas resources at better than industry average rates in high potential, higher risk exploration sectors. We expeditiously identify and capture significant acreage positions through a bottoms-up geologic approach to exploration. Our intent is to grow the business through organic exploration success, development and production.
Our Jubilee field production and significant available liquidity give us a solid financial position to develop on additional discoveries offshore Ghana, as well as pursue new oil and gas exploration finds in Africa and South America.
DEEP EXPERTISE, CONTRARIAN SPIRIT
Our strategy is built on our deep expertise. We are a focused team of intelligent, proven oil finders, who are expert in deploying the most advanced technology in areas with substantial potential. Where others see only risk, we have the expertise to see the potential opportunity, the ability to capitalize on it and the agility to act quickly.
PARTNERSHIPS
Kosmos partners with established industry players and host governments, and collaborates with local entrepreneurs as well. We are a nimble, unbureaucratic company, so we can create value quickly – for governments, industry partners, shareholders and our team.
Kosmology
A HISTORY OF DISCOVERY
Kosmos was founded in 2003 to find oil in under-explored parts of the world. Members of the management team – who had previously worked together making significant discoveries and developing them in Africa, the Gulf of Mexico, and other areas  — established the company on a single geologic concept, the Late Cretaceous play system that previously had been overlooked by others in the industry.
In 2007, the Kosmos team proved the geologic concept worked, discovering the massive Jubilee Field in the deep waters offshore Ghana. Other significant discoveries offshore Ghana soon followed, even as the company pursued new exploration opportunities in other areas along the Atlantic Transform Margin. In 2011, Kosmos became a publicly traded company on the New York Stock Exchange.
KOSMOS TIMELINE
Kosmos Energy Ghana
D'Anchor House
#12 First Osu Badu Street
West Airport Res. Area
Accra
Tel: +233 (0) 302-740888