UG MIS Web Portal |ienabler.ug.edu.gh Login
UG MIS Web Portal |ienabler.ug.edu.gh is an online tool that the institution makes available to students, employees, and other stakeholders to help with different administrative activities and services.
The UG MIS Web Login offers access to a range of features and functionalities, including:
Students can register for courses, view their course schedules, and make changes to their registration details through the UG MIS Web Portal.
The portal allows students to view their fee statements, make fee payments online, and track their payment history.
Students can access their academic records, including grades, transcripts, and degree audit reports, through the UG MIS Web Portal.
The portal provides access to course materials, lecture notes, announcements, and other relevant resources uploaded by instructors.
Prospective students can use the UG MIS Web Portal to submit their applications for admission to the University of Ghana. They can track the progress of their application and receive updates on their admission status through the portal.
University staff members can use the UG MIS Web Portal for administrative tasks such as managing student records, processing academic documents, and accessing employee-related information.
The portal serves as a platform for communication between students, faculty, and administrative staff. Important announcements, notifications, and messages can be disseminated through the portal.
To access the UG MIS Web Login, you typically need to have a valid username and password provided by the University of Ghana. These credentials are usually given to students upon enrollment or to staff members upon employment. If you are a student or staff member of the University of Ghana, you can visit the official university website and look for the link or section dedicated to the UG MIS Web Portal. From there, you can log in using your credentials and access the various services and features available on the portal.
How To login UG MIS Web Portal
Visit UG website: ug.edu.gh
Navigate to the top right corner and tap on Student
Select MIS Web
Login here MIS Web Portal – Self Help iEnabler
Click on the appropriate radio button to choose your status (Personnel or Student)
Provide your personnel or Student number and PIN
Tap on the login button
Tap on Forgotten Pin button and your PIN will be sent to your UG assigned email address. (My first time login)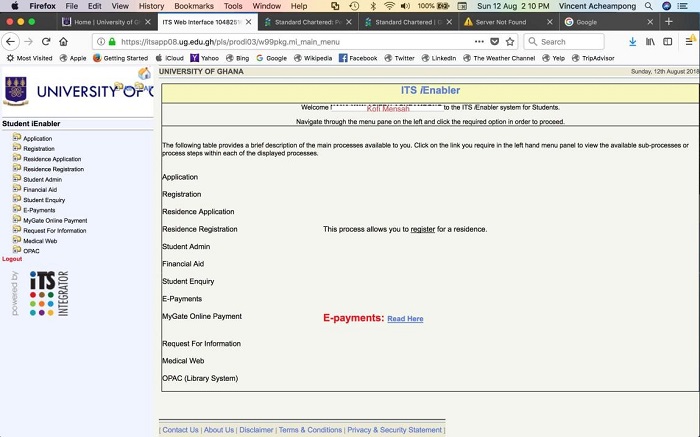 How to Change MIS Web Page Password
For your first-time login attempt you will be directed to another screen, here temporary password will be sent to your official UG assigned email address.
Enter the temporary password to complete the next steps
Retrieve your temporary password from your email.
Enter it in the Temporary Password field.
Create and input your new password which should be a combination of upper case letters, lower case letters, special characters, and numbers. The chosen password must be at least eight (8) characters long and should be different from any previous passwords you have used for the MIS Web
Click on the login in button to log into your MIS Web home screen
This completes your first-time login for the new MIS Web
Please be aware that as the university updates and improves its online systems, the specific features and functionality of the UG MIS Web Login may change over time. For the most precise and recent information regarding the UG MIS Web Login, it is advised to consult the official University of Ghana website or get in touch with the appropriate university officials.
Don't miss out on current updates, kindly like us on Facebook , Follow Us On Instagram &  Subscribe To Our Channel OR leave a comment below for further inquiries.